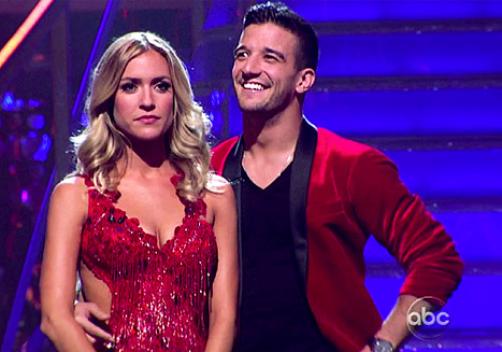 Kristin Cavallari was surprisingly eliminated from Dancing With the Stars this week. She's taking it pretty well, but that doesn't mean she's not surprised and upset.


The 24-year-old scored high marks and praise from the judges, tallying 24 out of 30 points Monday. But despite finishing tied for third (out of 10), she's out the door.

"I'm really sad," Kristin Cavallari admitted. "But, I'd rather go out on top and have people be shocked than be like, 'Thank god she's leaving, it's about time.'"

"It was the best experience I've ever had. I could not be happier."

As for why she was voted off? "It is what it is," she laughed. "That's the thing with Dancing with the Stars, you never know. It's clearly not a dance competition!"

Sentimental favorite Chaz Bono, whose mom Cher vowed to cheer him on in person next week if her son made it, survived despite a second straight week in last.

Despite her own elimination, Cavallari is definitely on Team Chaz:

"Chaz is so cute! I think he's great and he tries so hard, and I loved watching him dance every week. It's inspiring, and it's sweet, and I hope he does really well!"

The week was also a net positive for Kristin. Jay Cutler, who cheered her on during Monday's show, has reportedly reconciled with the former star of The Hills.